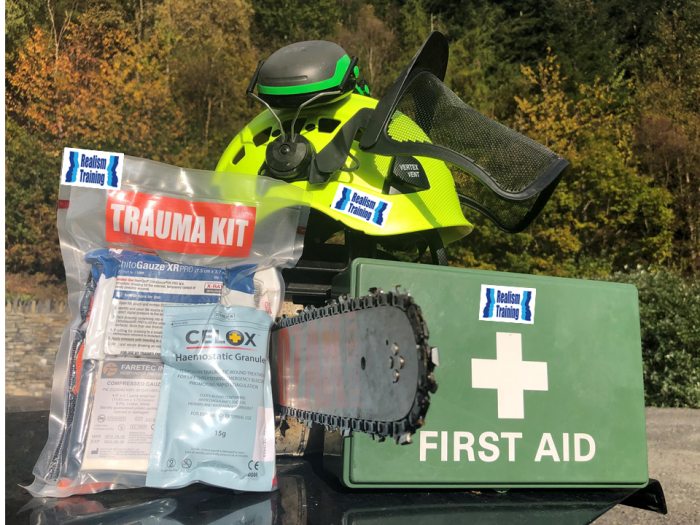 Cost £100.00 + £5.00 P&P Please contact me for availability
Press on link to view Trauma kit video description https://www.youtube.com/watch?v=W_X9aaAHGNk
Realism Training has put together a comprehensive Trauma kit designed for the immediate management of severe & catastrophic bleeding, the contents is the best kit on the market and should be an addition to any standard first aid kit.
The Trauma Kit comes vacuumed packed in an A4 transparent pouch .

You have the choice from 2 types of Tourniquet to be included in your Trauma Kit:
Choice 1: C-A-T G7 Tourniquet
C•A•T Resources has developed the all-new C•A•T® GEN7. Following extensive field reviews, the C•A•T® GEN7 has been completely re-designed, making it the most effective Combat Application Tourniquet® to date. The new GEN7 is simpler to use thanks to a single application protocol, single buckle routing system and further improvements to its components and construction. Used by the American and British Military.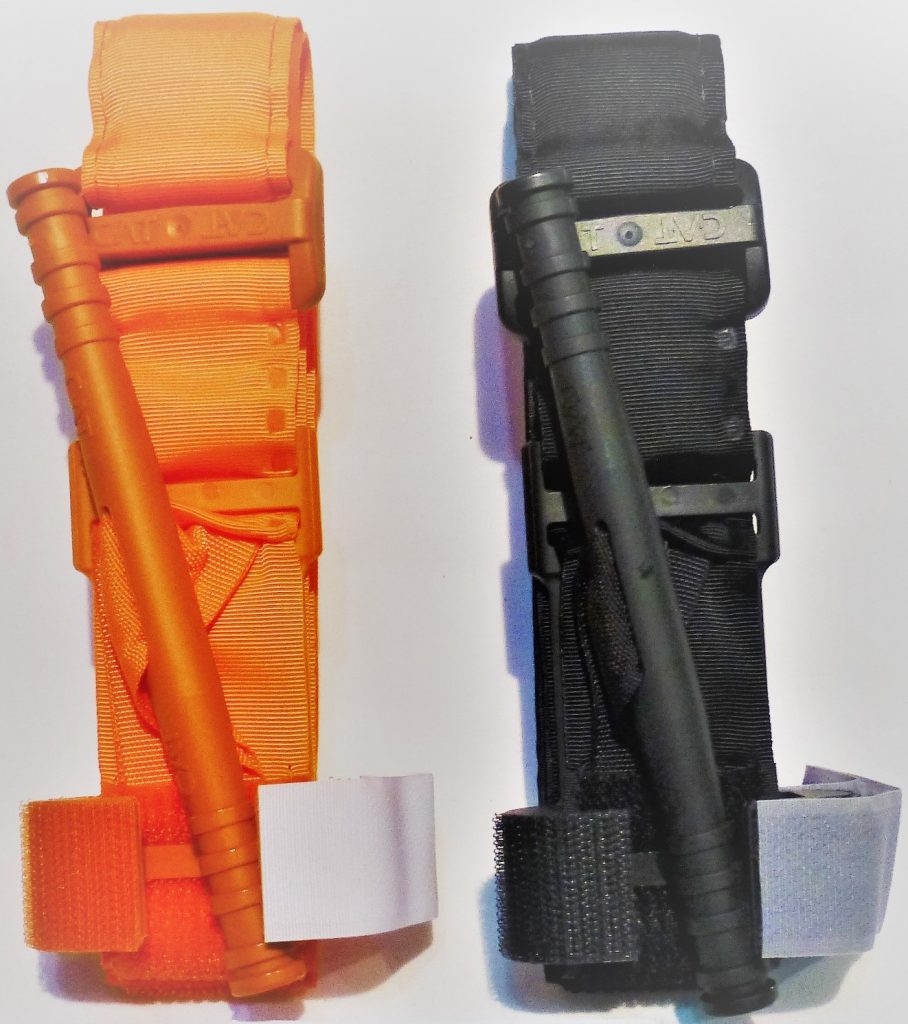 Choice 2: The SOF® Tactical Tourniquet Wide Gen 4
The SOF® Tactical Tourniquet Wide Gen 4 is the latest generation of the SOFTT-W from Tactical Medical. The tourniquet is comprised of high-strength, lightweight alloy components. Its design allows the tourniquet to slide over a limb or, if the limb is trapped, the tourniquet can be rapidly disconnected and reconnected around the limb without re-threading the strap. With one application method for both the arm and the leg, the Gen 4 is the easiest tourniquet to operate under stress, which can lead to reduced levels of blood loss and ultimately better quality patient care. Used by Paramedics thought the UK.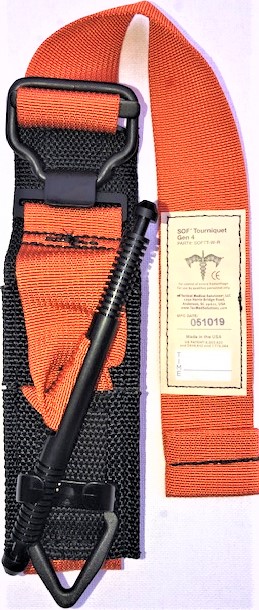 Prometheus Chitogauze XRPro (Haemostatic Gauze)
Prometheus Chitogauze XRPro (Haemostatic Gauze) is designed specifically for the battlefield and emergency medical professionals to quickly control severe haemorrhaging and save lives. First haemostatic gauze with a z-folded design for easy handling and rapid application which readily conforms to varying wound surfaces to rapidly stop bleeding and seal the wound site. ChitoGauze PRO provides antibacterial properties against dangerous organisms and offers medical professionals and emergency responders critical time to administer care.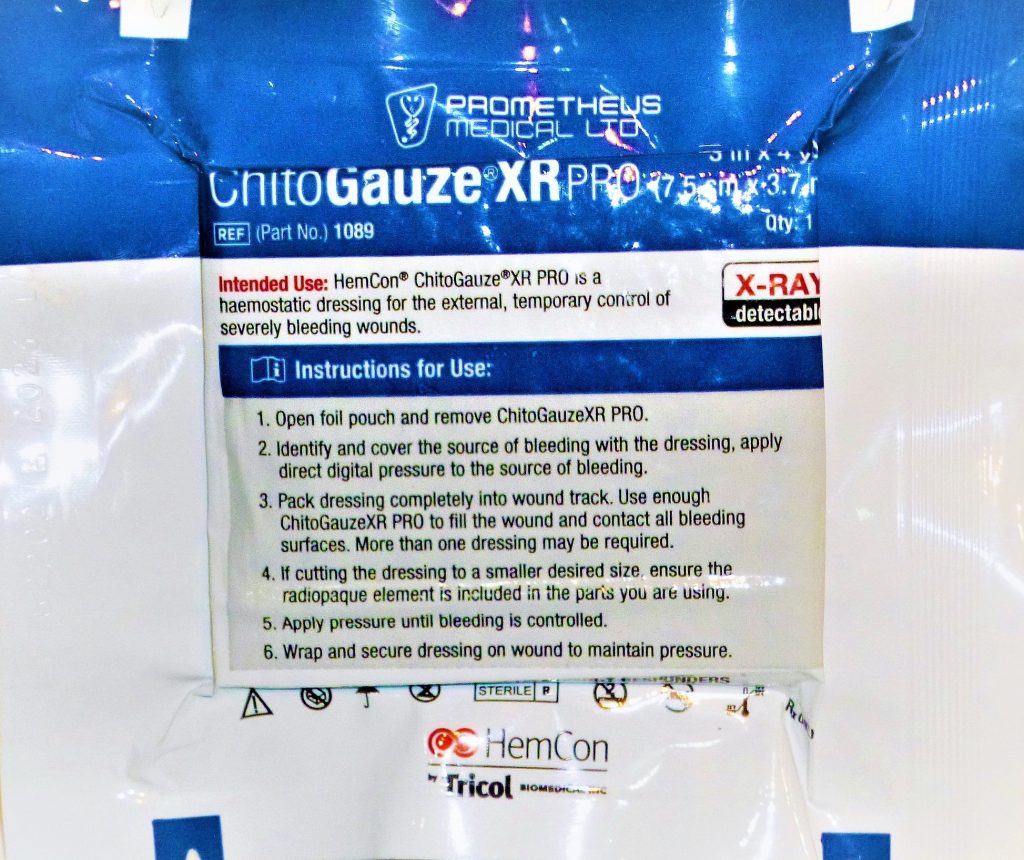 CELOX Haemostatic Granules 15g
CELOX Haemostatic Granules is the newest generation of emergency haemostatic agents. Simpler to use and safer than older technologies, CELOX granules quickly control even the most severe arterial bleeding. Just pour it in, pack it, and apply pressure
6" Trauma dressing with Pressure Bar (AKA Israeli bandage)
The Emergency Bandage is designed for quick and easy application by professional and non-professional care givers to provide effective, multi-functional treatment.
The Emergency Bandage's sterile, non-adherent pad applies pressure to any site, is easily wrapped, secured and has an additional application, similar to a tourniquet, to further constrict blood-flow. The product is so easy to use that even an injured person can self-apply the bandage with one hand.
The 6" Israeli Bandage with Pressure Bar is one of the finest bandages of its kind in the world. It is made for quick and easy application and self-application. Designed with the end user in mind, for the first-aid trained and the lay person.
Non- adherent pad, eliminating the risk of causing pain and having the wound re-open upon removal of the bandage.
Pressure Applicator: Creating the immediate direct pressure to the wound site.
Secondary Sterile Dressing: Keeping the wound area clean and maintaining the pad and pressure on the wound firmly in place., including immobilisation of the injured limb or body part.
Closure Bar: Enabling closure and fixation of the Emergency Bandage at any point, on all parts of the body; no pins and clips, no tape, no Velcro, no knots.
Responder Z-Folded Compressed Gauze
Compressed Gauze takes care of moderate to severe wounds involving heavy blood loss. Made with high quality cotton for maximum absorption and stability, great for clearing pulled blood from wound site before applying Celox Granules. Compressed Gauze is vacuum packed small for easy storage yet expands to cover large wound areas.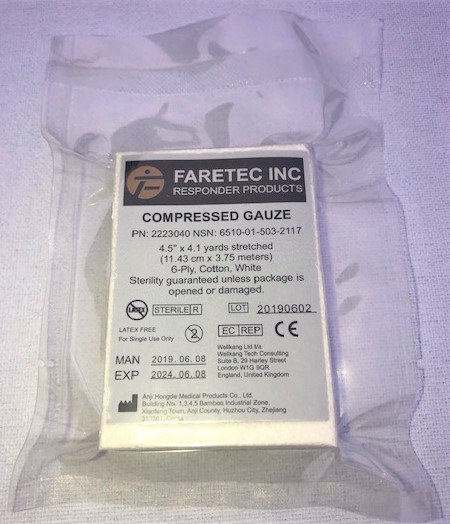 Tuff Cut Scissors
These high quality Tuff Cut Scissors are carried by Emergency services and feature a blunt end, strong with the ability to cut through most types of clothing, straps, belts, zips and chainsaw trousers.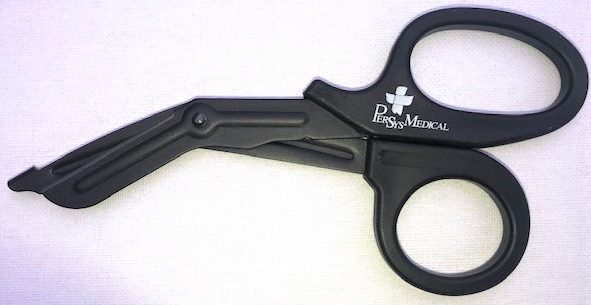 Nitrile gloves
The Kit comes with 2 pairs of Nitrile gloves, Size XL, Latex & Powder Free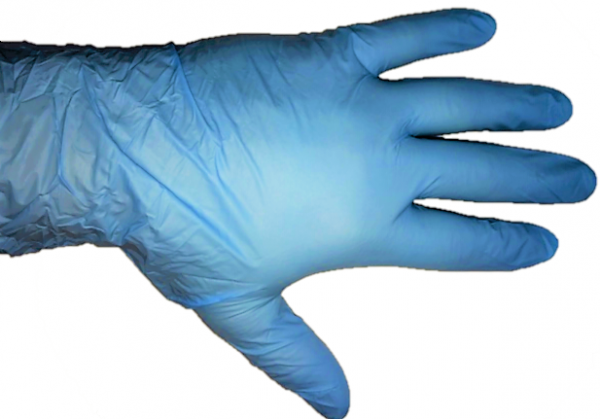 The kit contents is only effective if we know how to use it!
If you are First Aid trained but your training did not include the use of Tourniquets, Haemostatic gauze's/granules and Trauma dressing, I can offer this as additional training which will include hands on scenario based incidents.